In partnership with the Hoffmann Global Institute for Business and Society, the Food and Land Use Coalition hosted an event in the SDG tent at Davos that focussed on the trade-offs that must be managed to halt biodiversity loss and deliver sustainable food and land use systems. The event was attended by a number of FOLU Ambassadors and ambitious leaders from business, finance and civil society, who discussed the priority solutions for transforming food and land use systems to become more productive, equitable and regenerative.
As Cristiana Paşca Palmer noted in her opening remarks, we are in the midst of a severe biodiversity crisis which has disasterous implications on human life, the economy, and society. Increased demand for food is one of the main drivers for biodiversity loss, but there are many positive ways in which food and agriculture could play in the new global architecture for nature and people. At CBD COP 2020, parties will meet to establish a global biodiversity framework that will define an ambitious and transformative action agenda to tackle biodiversity loss, and mainstream biodiversity into the food and agriculture sectors.
FOLU Chair Paul Polman highlighted the urgency of food and land use system transformation and the need for a collaborative, integrated approach to meet the SDGs. We need to harness market forces to tackle interlinked challenges at scale. This will require companies to re-orient their business strategies and advocate for greater private sector ambition to produce food that is sustainable, nutritions and accessible to all.
The event sought to benefit from the wide-ranging experiences and expertise of those in the room. Participants seated at roundtables were asked to focus on solutions available within a specific aspect of the food and land use system, identifying the key priorities and the enabling environment required to facilitate these. The conclusions reached through each roundtable discussion will feed into the Coalition's Global Report on Transforming Food and Land Use Systems, which is due to be released in September 2019.
Roundtable discussions centred on:
Financing the nature that is needed to grow food

Can oceans solve the ever-expanding need for protein?

How can global trade help to protect nature?

Can intensive farming also be sustainable?

How can agricultural subsidies protect natural systems?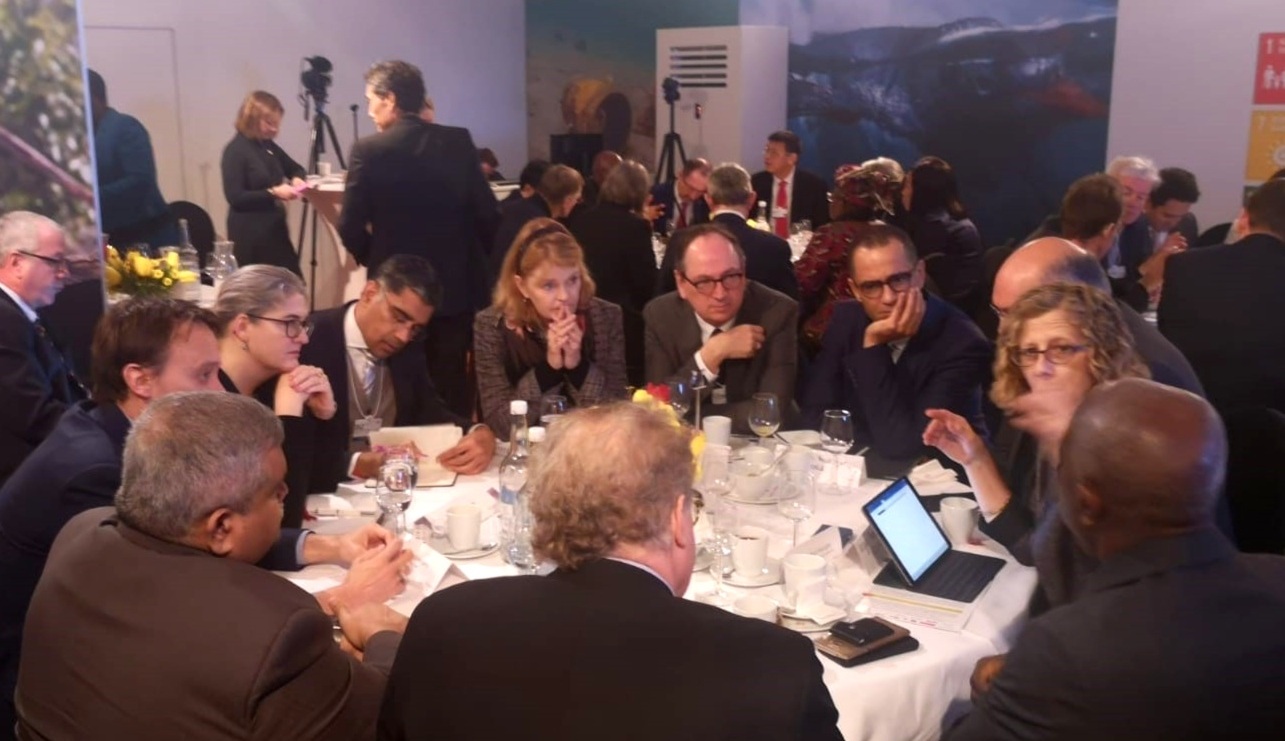 Key themes that came out of the discussions included:
The importance of a just transition: a bottom-up approach can help to shift local dynamics to create trade systems that support sustainable production and consumption patterns. This is particularly important in the case of agricultural subsidies, $500 billion of which could be redirected to support more sustainable practices. In so doing, it is important that governments consider the needs of individual farmers, involve them in the process so that they can tailor support to local contexts and crops, and communicate the rationale and potential of subsidies in ways that speak to their aspirations and concerns.

Private sector leadership: multinational agribusinesses have a critical role to play in pioneering practices that match scale with sustainability. By championing greater agrobiodiversity – through farming techniques like agroforestry, by increasing the diversity of ingredients used in products, and by being sensitive to local food cultures and traditions – food producers can bring their expertise in intensive farming to help produce more on less land while protecting nature within agriculture itself.

Creating an enabling environment for increased investment in sustainable food and land use, addressing policy constraints and mobilising partnerships to mitigate risk and crowd in private finance.

Ocean proteins: there is also a significant role for redirecting subsidies to increase sustainable ocean protein production and consumption. Seafood – particularly bivalves such as mussels, clams and scallops – offers a huge opportunity to increase the availability of sustainable, alternative protiens. Yet today, this industry has not been mainstreamed. Addressing communications barriers as well as subsidies can help to unlock this opportunity while stamping out unsustainable practices.

Systems approach to change: Many of the challenges and solutions discussed at the roundtables were linked, exposing feedback loops. For example, subsidy reform can help to incentivise practices that promote agrobiodiversity, sustainable intensification of aquaculture and agriculture, and prevent illegal fishing. At the same time, a global definition of sustainable trade will help to redirect subsidies and price externalities, which in turn will make sustainable food more affordable and change consumer behaviour. Actors in the food and land use space need to recognise these linkages and coordinate on targets and solutions.
Elsewhere in Davos, issues at the heart of the FOLU agenda featured widely, including a number of events held by FOLU Core Partners.
22nd January, Science Based Target Network event on 'Moving from Design to Implementation' to engage heads of contributing organizations on how to scale work and accelerate progress in 2019.
22nd January, WBCSD welcomed high-level representatives at its 'Healthy People, Healthy Planet' session, moderated by David Nabarro. The event started with presentations from Johan Rockström and Gunhild Stordalen on the new EAT-Lancet report, Laurence Haddad on GAIN's perspective, Svein Tore Holsether on WBCSD's and Yara's perspectives, and Mauricio Adade on DSM's views. It was followed by active discussions to collectively build upon the report outcomes and identify market-based solutions where companies can act and drive outcomes as an industry.
23rd January, Making Food and Nutrition Relevant Beyond SDG2 event, exploring how to change the way that buainess is leveraged to build food ad nutrition systems that deliver growth, income generation and jobs to support health system development.

24th January, Generation Africa lunch, hosted by Yara and Econet, on how to unleash a dynamic cadre of youth entrepreneurs to drive inclusive growth in Africa's agri-food system.

24th January, The Role of Business in Scaling Solutions for The SDGs, event exploring how to ensure inclusive and sustainable growth while scaling solutions to drive delivery of the SDGs – including new business models.

24th January, Launch of Ellen MacArthur Foundation's latest report on Cities and the Circular Economy for Food. Assembled CEOs and senior executives discussed the report's findings and next steps required to mobilise its recommendations into a multi-year initiative.
25th January, Food Systems Dialogues brought together leaders from central and local governments, farmer groups, businesses, scientific bodies and non-governmental organizations to engage in structured Dialogue about the future of Food Systems.
While there were some notable absences this year, and – by some accounts – a more sombre mood as leaders reflected on the growing rise of inequality, nationalism and planetary challenges, there were some stand-out moments, with strong and clear calls for action.
Greta Thunberg, a 16-year-old Swedish schoolgirl, took a 32-hour train journey to mount her protest at Davos, and pulled no punches in holding the global elite to account for the destructive use of natural resources and creation of a climate crisis. Addressing assembled CEOs, bankers, investors and influential stars at a midweek lunch, she emphasised the urgency to act: "I am here to say, our house is on fire… I don't want you to be hopeful. I want you to panic. I want you to feel the fear I feel every day. And then I want you to act.I want you to act as you would in a crisis. I want you to act as if our house is on fire. Because it is."
With Greta representing the voice of youth, facing up to what the future holds, Sir David Attenborough brought his wisdom and experience to bear in calling for urgent action. The broadcaster and natural historian has witnessed the destruction of natural habitats throughout his lifetime, and its astonishing acceleration in recent years. "The Garden of Eden is no more", declared Sir David Attenborough. "We have changed the world so much that scientists say we are in a new geological age: the Anthropocene, the age of humans."