This is the second entry in a collection of field commentaries by FOLU India.
Connecting with the Community: How FOLU India engages farmers to improve nutrition
Authors: Meena Sehgal, Senior Fellow, The Energy and Resources Institute (TERI) and Vidhu Gupta, Associate Fellow, TERI. TERI is a FOLU India core partner
SAHeLEE, a project initiated by FOLU India, aims to improve the consumption of safe and nutritious food from locally grown grains, seeds, nuts, and fruits in Mukteshwar, a village located in the state of Uttarakhand, India. 'Sahelee' means 'friend' in the Hindi language and, instinctively, one of our first steps was to connect and form relationships with the local community to better understand their nutrition-based habits and challenges.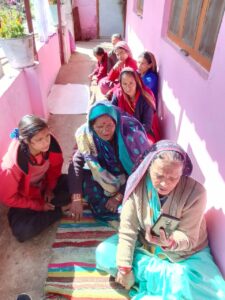 With the project commencing amidst the pandemic lockdowns, FOLU India researchers were faced with the issue of not being able to interact with farmers in person and had to turn to WhatsApp and Microsoft Teams for communication. We set up a series of group chats with them to help us develop an understanding of popular local foods and common culinary practices. Through these online conversations we were glad to observe the community's willingness to explore options to improve their livelihoods and the nutritional status of their children.
However, continuously engaging with the community from afar was certainly a challenge! By inviting the local community to partake in various activities we managed to sustain interest and improve communications. For example, an online recipe competition helped us connect with women in the area, who recorded and shared short videos of their favourite local food items. Besides creating a buzz around the project objectives, the videos allowed us to learn about the popular grains and greens in the villages, the wide range of culinary techniques that are practiced, and the cooking fuels commonly used in homes.
Next, we intend to use community radio to expand our project to other surrounding areas. The local radio station, 'Kumaon Vani'. reaches 500 villages in the district of Nainital. We plan to organize and broadcast a series of interactive programmes on nutritional science. These would include quizzes, expert interviews, and jingle competitions in local colleges offering courses in Home Science and Agriculture.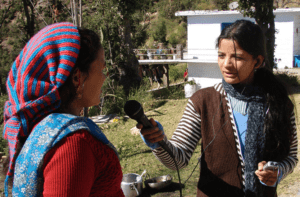 The radio will also broadcast programmes based on the training given to local 'Self-Help Groups' on the nutritious food products developed under SAHeLEE. FOLU India aims to set up knowledge centers to increase awareness about healthy diets and sustainable food choices.
Our efforts of building a relationship with the community are strengthened by earlier projects undertaken by The Energy and Resources Institute (TERI), one of FOLU India's core partners, on sustainable agriculture and expanding livelihood opportunities among farmers in the region. We intend to adopt some of those best practices to achieve intended results.
Read more about community mobilization in the next commentary and learn more about SAHELEE here.
Photo credit: Vidhu