FOLU at Land & Carbon Lab's 2023 Summit
Event type:
In person, Virtual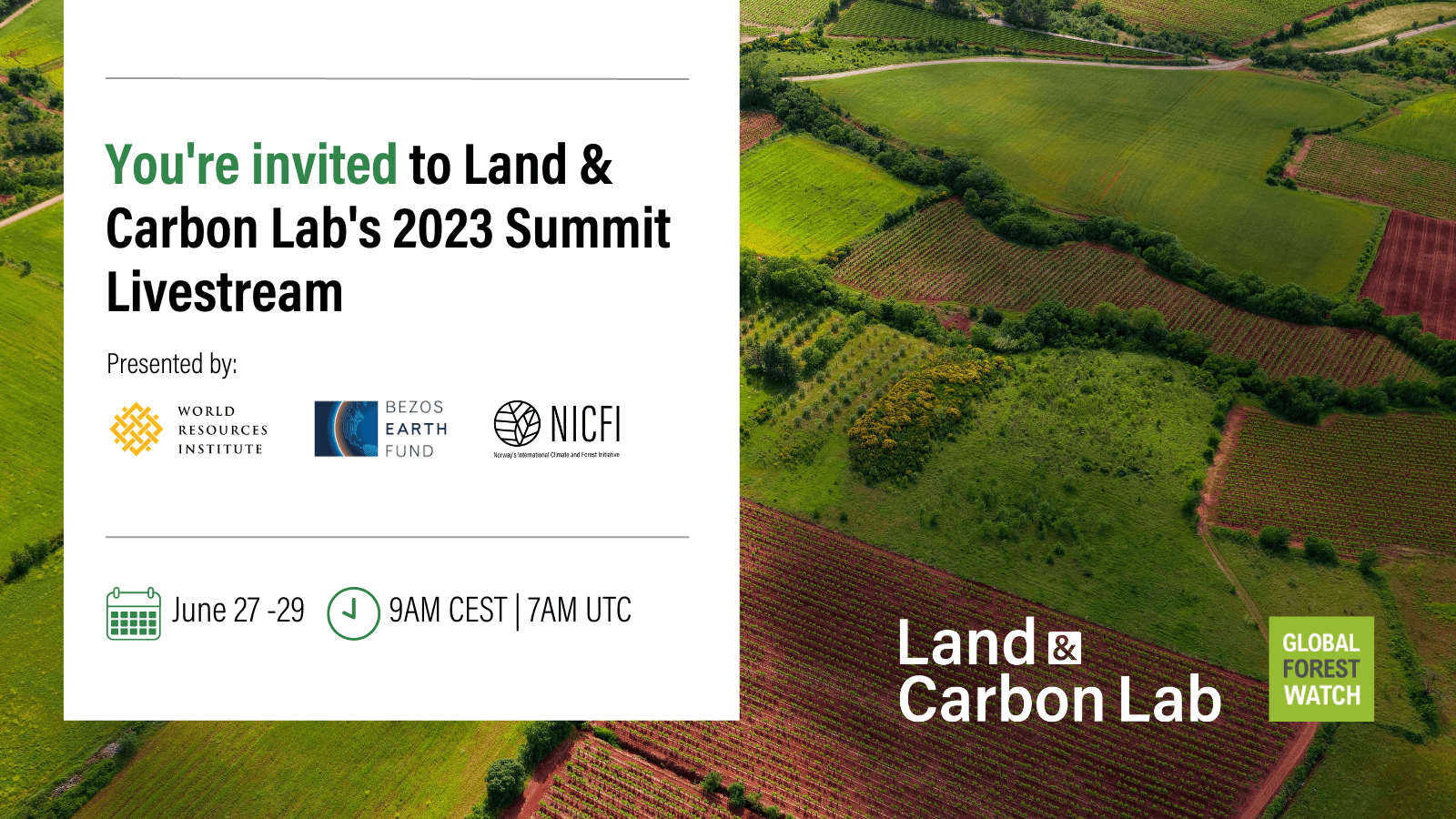 FOLU at Land & Carbon Lab's 2023 Summit
Event type:
In person, Virtual
Date
27 June 2023 - 29 June 2023
Location
Brussels, Belgium

Event Description
Join FOLU at Land & Carbon Lab's 2023 Summit this June.
Held in Brussels from June 27-29th, the Summit will bring together policymakers, practitioners and innovators to spotlight the power of geospatial data in advancing the world's 2030 climate, nature and sustainable development goals.
Explore the agenda and register for the livestream or in person attendance
FOLU will be convening and participating in a number of sessions in the Summit's "Sustainable Food Future" track, which will highlight how geospatial data and monitoring can:
Scale productive and regenerative agriculture
Reduce methane emissions from livestock production
Harness the power of Nature-based Solutions
Raise ambition and action on food systems
Help overcome barriers to implementation
Browse the event's agenda page to plan your schedule, and see below for a snapshot glance at what's to come:
From Observing Practices to Measuring Outcomes: Aligning data and monitoring to scale productive and regenerative agriculture Tuesday June 27, 09:00-10:30 UTC
Join us for an inspiring session on how regenerative agricultural practices can protect biodiversity, improve food security and build climate-resilience. Learn about practical frameworks and metrics that promote fairness, tackle trade-offs and deliver positive outcomes for all.
Sustainable Livestock Production: Tackling the global land squeeze and methane challenge Wednesday June 28, 11:30-13:00 UTC
Tune-in for a solutions-oriented discussion on planetary health diets and reducing methane emissions from livestock production. Explore the dietary shifts needed to secure a healthy and sustainable food future for all, and how these vary in practice within and between countries.
SPOTLIGHT TALKS: The geospatial dimension of food systems transformation Thursday June 29, 07:30-08.30 UTC
What are the practical challenges that policymakers and implementers are facing? Speakers will highlight what we can learn from existing approaches to reduce food loss and waste, and explore the role of geospatial data and planning to transform food systems for people and planet.
How Spatial Planning Can Unlock the Power of Nature-based Solutions to Transform Food Systems Thursday June 29, 09:00-10:30 UTC
Save your spot at this session to find out how spatial data can enhance land use planning and accelerate investment in Nature-based Solutions to achieve our hunger, climate and biodiversity goals. Tune in for case-study insights from around the world, as well as best practices for reducing trade-offs between sectors.
From Ambition to Action: What can food system transformation deliver? Thursday June 29, 11:30-13:00 UTC
Join us in raising national and international ambition on food systems. Learn how latest innovations in data, geospatial analysis and monitoring can be harnessed to tackle the "global land squeeze" and develop holistic food system transformation strategies.